Nov.21
at
Le Musée de l'homme, Paris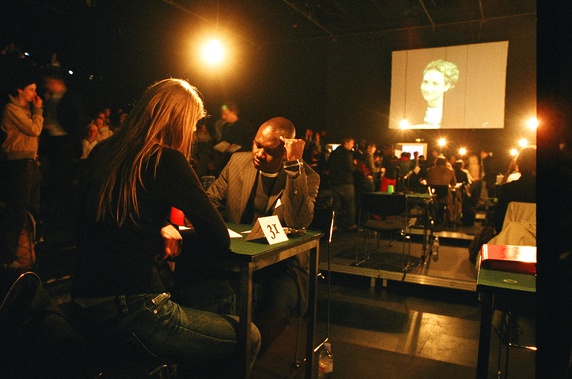 Blackmarket for Useful Knowledge and Non-Knowledge No.18, "On becoming earthlings: dialogues and exercises in shrinking and expanding the human" (EVENT)
BRING A GIFT1 AND BOOK AN EXPERT FOR HALF AN HOUR!
What does it mean to live in the anthropocene? How do we get there? And who will we be?
To think the anthropocene takes putting into question our relationships to all things and beings, from nature to technology. It means to realign and to readapt – to set humankind into new proportions. If 'nature' was the first colonized object of modern European thinking and conquering, then the concept of the anthropocene may demand us to leave the humanistic scope of western thought. But how do you propel yourself into a new mindset?
In order to map the bio-geo-chemical as well as the imaginary and spiritual state of things, the Blackmarket for Useful Knowledge and Non-Knowledge2 assembles a multitude of experiences – from scientific research to children's books, from political activism to artistic exploration, from utopian speculation to critical reflection.
Read the concept here. and Read Press Releases and articles here


In parallel of the Blackmarket, the collectif Essai presents in the Auditorium of the Musee de l'Homme three episodes of Essay of a Negotiation3, an investigation into formal dialogue and protocol procedures, and how official regulations shape the diplomatic outcome. By documenting a simulation of COP21, "Make it work", the films allow for a close look at the process of reaching political agreements.
The program in 75 questions
What can the Rromani people teach us about adaptation? (Marcel Courthiade) How can we live in a society without women? (Alain Della Negra and Kaori Kinoshita4) How did prehistoric hominids survived to climate change? (Marie-Hélène Moncel) How do Inuits cope when faced with the decrease of ice field? (Sylvie Teveny) How vegetarianism and spirituality coexist? (Nadim Ghodbane)
How might the relationship between modern Western medicine and alternative medicines be rethought? (Anahita Grisoni) How can we deal with a goat's pyschosomatic disorder, and what are the consequences on its milk? (Jennifer Teets) How can the history of man help us to understand the anthropocene? (Évelyne Heyer) How can we understand the contradictions of the concept of the anthropocene? (Catherine Larrère) If the Earth is nothing but a planet in the galaxy of the cosmic suburbs, then what anthropocene do we speak of? (Catitu Tayassu)
At what about the decolonization of our perceptions? (Seloua Luste Boulbina) How can we overcome a colonial heritage still present in the eurocentrism of today's environmental politics? (Françoise Vergès) How can we rethink the politics of design and space in the era of the anthropocene? (Léopold Lambert) What if radiation, conduction, convection, pressure, evaporation and digestion were considered architectural elements for our living spaces? (Philippe Rahm) Will biomimetics permit humans to face the changing conditions of the world? (Kalina Raskin)
Why is it urgent to read Donna Haraway(5)? (Nathalie Magnan) How can we maintain relations with the deads? (Vinciane Despret6) How Icelanders coexist with nature and invisible beings? (Sigrún Úlfarsdóttir) Are we part of Nature? (Guillaume Lecointre) The capital market is part of the problem, but can it also be part of the solution? (Pierre Ducret)
What would have happened if the liberal and "communist" scientists, who had dominated the United States' nuclear program during the war, had stayed? (Ewen Chardronnet) From the Cold War to geoengineering, what political history of "Spaceship Earth"? (Sébastian Grevsmühl) Are we all equal in front of the ecological crisis? (Razmig Keucheyan) How can those most vulnerable overcome climate change? (Vaia Tuuhia) What is this new species of information bots, who coexist with us in the techno-natural world of the anthropocene? (Marie Lechner)
How will the hero Tristam understand meteorological phenomena in order to prevent the Tyrant from transforming the climate into a weapon of war? (Judith Boon) How to tell the history of nature to children? (Rachel Easterman-Ulmann) How can Alice help us comprehend the land of the anthropocene? (Émilie Notéris) How can we coexist with the reapparition of wilde species in Europe? (Patrick Degeorges) In what ways can farmers coexist with predators? (Nora Kravis)
How might the production of different temporal realities become a political tool? (Nana Adusei-Poku) What is ecofeminism? (Isabelle Cambourakis) What is the place of Man in the biosphere? (Paul Watson) How can ancestral values accompany the climate objectives of Easter Island? (Hugo Teave) What is the impact of migration on societies? (Hervé Le Bras)
What do ladybirds teach us about the notion of invasive migrants? (Romain Nattier) How does a marine flatworm obtain a fluorescent green color, as well as manage to regenerate its brain, by living with a microalgae? (Xavier Bailly) Why do gases, despite their replacement, continue to impact the ozone layer? (Sophie Godin-Beekmann) How can we obtain answers about the beginning of the universe by observing the very small? (Sophie Houdart) How are microbes necessary to plants and animals, as well as to humans? (Marc-André Selosse)
Can architecture and design remedy the dramatic consequences of natural resource extraction? (Annick Labeca) What can we still learn from plastics—modernity's most contradictory material? (Florence Hachez-Leroy) How will ecosystems respond to ongoing global changes? (Sonia Kéfi) What do space programs serve? (Silvia Casalino7) What would become of us if we were to truly leave Earth, without ever possibly returning? (Fabien Giraud8) What is the meaning of life? (Yann Minh) How can we counter "climate indolence"? (Yoann Moreau)
How might the point of view of insects help us to develop an ethic? (Philippe Grandcolas) How can we dance for animals? (Krõõt Juurak) How can we learn from chimpanzees? (Sabrina Krief9) What can we expect from the close connection with domestic animals in the future? (Maja Smrekar et Lord Byron) How might the notion of Pachamama (Mother Earth) and Western modern civilization be paired? (Jean Paul Guevara)
Where have we hidden our nature? (Annamaria Lammel) How can we integrate nature into our history? (Grégory Quenet) Can we accept that the dam determines the fate of the river? (Catitu Tayassu) How can we save mangroves? (Tarik Meziane) What is the specificity of vegetal? (Sylvie Pouteau)
How can we represent a phenomenon as abstract as climate change? (Armin Linke10) How can we give voice to non-human agents? (Axel Meunier) Why is there a danger of temporal confusion around the concept of the Anthropocene? (Patrick De Wever) What stories does a core sample carry with it? (Benjamin Steininger) Do plants belong to nature or culture? (Ingrid Paola Amaro)
How did the Vatican come to call the Earth "Our Sister"? (Bruno Latour11) Can indigenous peoples serve as models for the future development of modern societies? (Irène Bellier) Why are land rights a colonial constraint for Aborigines? (Martin Préaud) Can the Amazonian American-Indian Shinan's art of living have a place in the Anthropocene? (Catitu Tayassu) Why has the city become attractive for agriculture? (Guillaume Leterrier)
How can we preserve the legacy of shepherding? (Stéphane Verlet-Bottéro) Who will we be in 2040? (Mathieu Baudin) What philosophy will earthlings develop in relation to their natural and built environment? (Yona Friedman) How can we (re)learn to feel? (Ashkan Sepahvand) Who will be excluded from the Anthropocene? (Jamika Ajalon) What is the somatic body? (Joanne Clavel) How can we successfully talk about the ensemble of our emotions? (Émilie Hache) How can we practice Gaya Touch? (Liza Japelj Carone)
Concept
Hannah Hurtzig (Mobile Academy Berlin)
Curators
Alexander Klose
Nataša Petrešin-Bachelez with

Laurens Otto
scientific advisor
Denis Couvet (Museum National d'Histoire Naturelle)
experts
Jamika Ajalon

Ingrid Amaro

Brook Andrew

Xavier Bailly

Mathieu Baudin

Irène Bellier

Judith Boon

Seloua Luste Boulbina

Isabelle Cambourakis

Silvia Casalino

Ewen Chardronnet

Joanne Clavel

Marcel Courthiade

Patrick Degeorges

Alain Della Negra

and

Kaori Kinoshita

Patrick De Wever

Vinciane Despret

Pierre Ducret

Rachel Easterman-Ulmann

Yona Friedman

Nadim Ghodbane

Fabien Giraud

Sophie Godin-Beekmann

Philippe Grandcolas

Sebastian Grevsmühl

Anahita Grisoni

Jean Paul Guevara

Émilie Hache

Florence Hachez-Leroy

Évelyne Heyer

Sophie Houdart

Liza Japelj Carone

Krõõt Juurak

Sonia Kéfi

Razmig Keucheyan

Nora Kravis

Sabrina Krief

Annick Labeca

Léopold Lambert

Annamaria Lammel

Catherine Larrère

Bruno Latour

Hervé Le Bras

Marie Lechner

Guillaume Lecointre

Guillaume Leterrier

Nathalie Magnan

Axel Meunier

Tarik Meziane

Yann Minh

Marie-Hélène Moncel

Yoann Moreau

Romain Nattier

Émilie Notéris

Martin Préaud

Heidi Quante

Philippe Rahm

Kalina Raskin

Marc-André Selosse

Ashkan Sepahvand

Maja Smrekar

and

Lord Byron

Benjamin Steininger

Catitu Tayassu

Hugo Teave

Jennifer Teets

Sylvie Teveny

Vaia Tuuhia

Françoise Vergès

Stéphane Verlet-Bottéro

Paul Watson



Image: Blackmarket for Useful Knowledge and Non-Knowledge No.16 "On the Repaired, Enhanced and Dead Body", in Riga.
artistic coordination
Sarah Lewis (Mobile Academy Berlin)
Commissioned by
Grégory Castéra

and

Sandra Terdjman

(Council) with

Alexandra Cohen

(Cuesta)
Executive production
Arter/Vivanto
Production coordination

Anne Becker with Julie Le Gall(bureau platÔ/KP)
Technical director
Communication
Rozenn Tanguy (Agence Ticoët)
Translation
Design
Remco van Bladel

Julien Couret

# Special thanks to - Emmanuel de la Baume, Solène Guillier, Bernard Guirkinger, Barbara Klose-Ullmann, Catherine Larrère, Valérie Pihet, Maria Ines Rodrigues.
with the participation of
Muséum national d'histoire naturelle - Musée de l'Homme, Paris.
supported by
La Région Ile-de-France
Le Bon Coin
Suez Environnement
The Nature Addicts Fund
La Ville de Paris
CNRS
Union européenne, Fonds FEDER-Interreg France-Suisse
Fondation de France
Slovenian embassy, Paris
Projet labellisé COP 21
Links


Top image: Blackmarket for Useful Knowledge and Non-Knowledge #16 "On the Repaired, Enhanced and Dead Body", in Riga.
— Location
Le Musée de l'homme, Paris 17, place du Trocadero
75116 Paris
— Entrance
Free admission
— Opening
8pm – 11:30pm non–stop - Check–in open: 7pm
1.
Every blackmarket is a place for bargain and trafficking. The Musée de l'Homme, however, as a state funded institution is not allowed to facilitate any sale of any products by the « taker » or outside organisations, which is strictly forbidden inside and surrounding the building. Therefore even the symbolic fee of one euro in the Blackmarket for Useful Knowledge and Non-Knowledge, which is exchanged in order to book an appointment with an expert, can´t take place in Paris. In this event we kindly then ask you, our public and our clients, to bring a gift. The gift is a violating provocation of the principle of exchange of commodities  - but will help you to book an expert at the Check-In.
2.
Mobile Academy Berlin stages performances and meeting places of knowledge. Each project is dedicated to a specific theme. Following seventeen Blackmarkets in Berlin, Warsaw, Istanbul, Jaffa, Vienna, Liverpool, Riga and other cities, this is the long-awaited first Blackmarket in Paris.
3.
Up to the present, the United Nations « Climate Change » Conferences did not succeed in establishing a globally mandatory climate policy. In May 2015, students of Bruno Latour's programme of experimentation in arts and politics at Sciences Po (SPEAP) organized "Make it work", a pre-enactment of the upcoming climate conference in Paris. 200 international students were hosted for six days by the Théâtre Nanterre-Amandiers to experiment with alternative ways of negotiating. Collectif Essai is composed of Lisa Bergmann, Giulia Bruno, Klemens Czurda, Víctor Fancelli, Florian Haag, Alper Kazokoglu, Armin Linke, Charles Mallison, Kerstin Möller. Une collaboration de la Hochschule für Gestaltung Karlsruhe et Sciences Po/ SPEAP Paris. Avec l'aide de Tristan Bera, Laurent Salter, Julien Thomas, Ana Vaz, Tobias Wootton. Remerciements: Paris Climat 2015 - Make it Work, Théâtre Nanterre-Amandiers, raumlaborberlin.