Sep.01 — Oct.01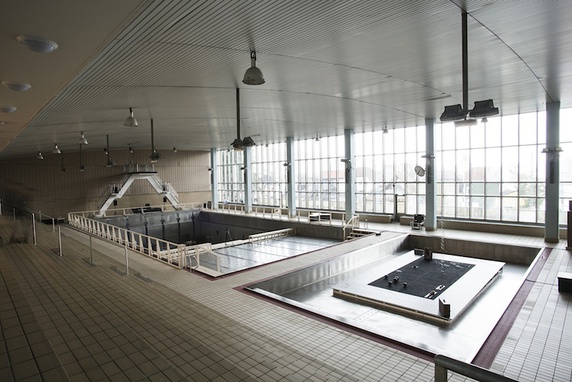 WITHIN / Infinite Ear (EXHIBITION)
YOU ARE IN SENTRALBADET, a swimming pool long frequented by the city of Bergen's res- idents and visitors. You jump in the pool. When you float in the water your body is caught in its undulations. You feel the variation of these movements and your ears perceive sound trajectories in a different manner. Listening has long been an enigma and certain sages believed the ear housed an ocean. The ocean in your ear moves at the pace of your stride, your red blood cells vibrate at very high-pitched frequencies, your skeleton can conduct vibrations in each part of the body and if a hun- dred of you were to walk on a bridge at a particular speed you could make it collapse. Water enters your ears and it stays there when you leave the pool. The spiral of the cochlear that transforms air compressions into electric impulsion and enables us to perceive sound is obstructed by the water. You gradually loose your hearing. You feel off kilter and have difficulty making out speech. You search your memory for sonic events. You strain to concentrate. Your attention is focused on the vibrations your whole body perceives, then you understand that the movement around you gives some indication about the sound you can no longer perceive. You see the trajectories of the people around you, you see spaces and groups as sonic forms, sometimes harmonious, sometimes oppressive. You invent a corpo- real language that expresses the timbre of your voice which you can no longer hear. You are suddenly more attentive to these sensations despite their having always been there. They alter the way you see and communicate. This leads you to realize that hearing is connected to the other senses and that the relationship between these senses changes from person to person. You use equipment that amplifies and indicates the presence of sound around you. They say a sonic world exists beyond perception, in black holes, photosynthesis, the decomposition of fungi, and that there is no such thing as silence. Now you negotiate all of these sensations to create a music beyond hearing, that undulates like water on the body and on the surface of buildings. Welcome to the Infinite Ear.
Since 2013, Tarek Atoui and Council have worked in collaboration with Deaf and differently hearing persons to create a space to experiment with, understand and represent the diversity of the hearing expe- rience. Combining the scientific history of hearing with the history of the sonic arts and of Deaf commu- nities, this site seeks to renew the way we relate to sound perception.
WITHIN / Infinite Ear is a collaboration between COUNCIL and Tarek Atoui
WITHIN
INFINITE EAR
curated by COUNCIL (Gregory Castéra and Sandra Terdjman)
INSTRUMENTS AND PERFORMANCES
conceived by Tarek Atoui
with
Julia Alsarraf
Daniel Araya
Hein B. Bjerck
André Bratten
Johannes Giebel
Mats Lindström
Trond Lossius
Jeffrey M. Lubow
Thierry Madiot
Perrin Meyer
Greg Niemeyer
Alwynne Pritchard
Espen Sommer Eide
Gerhard Stabiler
Pauline Oliveros
Kari Telstad Sundet
WHITE CAT
Café with selection of sound recordings by
Tarek Atoui
Hein B. Bjerk
Chris Chafe
Carl Michael von Hausswolff
Jacob Kirkegaard
Morten Norbye Halvorsen
Eric La Casa
Gareth Lee Paterson
Matthieu Saladin
Minoru Sato
Thomas Tilly
Chris Watson
THERAPIES
Collective and individual sonic exercises by
Myriam Lefkowitz and Valentina Desideri
Thierry Madiot
Pauline Oliveros and Ione
HEARING MATTERS
Artworks by
Douwe Jan Bakker
Antonia Carrara
Fairy Char
Giovanni Crupi
Aurelien Gamboni and Sandrine Teixido
Dora Garcia
Joseph Grigely
Alexandre Guirkinger
Alison O'Daniel
Baudouin Oosterlinck
MOVIE PROGRAM - Movies and videos by - Lawrence Abu Hamdan - Robert Ashley - KK Bosse - Jonathan Burrows and Matteo Fargion - Abel Gance - Friedrich A. Kitteln - Xavier Le Roy - Christian Barclay - Alison O'Daniel - Simon Ripoll-Hurier - Walter Rottmann - Myroslav Slaboshpytskyi - Noé Soulier and Jeffrey Mansfield - Andrei Tarkovsky - George W. Veditz - Frederick Wiseman
SELECTION OF TEXTS
Curated by Emma McCormick-Goodhart
PUBLICATION
A 58 pages is published for the exhibition. More informations here.
— Entrance
Free
— Opening
11am-5pm