Sep.01 — Oct.01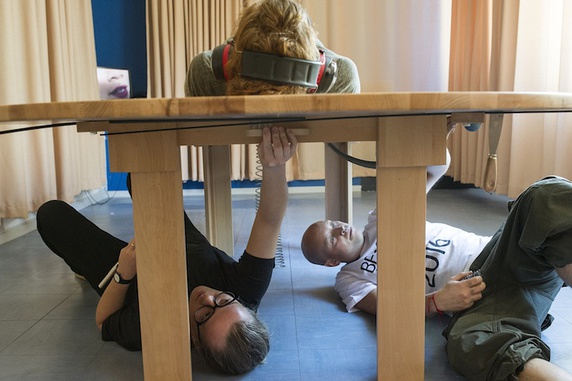 Sonic Therapies
Sonic therapies by appointment in the frame of the exhibition WITHIN / Infinite Ear. Calendar on Bergen Assembly's website..
WEEK 1 : September 1st – 4th 2016, DEEP LISTENING, by Pauline Oliveros and Ione
Pauline Oliveros is the founder of Deep Listening, which comes from her childhood fascination with sounds and from her work in concert music involving composition, improvisation and electro-acoustics. Pauline Oliveros describes Deep Listening as "a way of listening in every possible way, to everything possible to hear, no matter what you are doing." Such intense listening includes the sounds of daily life, of nature, of one's own thoughts as well as musical sounds. "Deep Listening is my life practice," she explains, simply.
For Within/Infinite Ear, Pauline Oliveiros is accompanied by playwright and sound artist Ione. To- gether they are proposing a Deep Listening session which will specifically explore the relation between sounds and dreams, based on Ione's book Listening in Dreams (2005). These sessions, will inform Pauline Oliveros' composition presented for the Bergen Assembly opening weekend.
WEEK 2 : September 6th – 11th, SOUND MASSAGE, by Thierry Madiot
Thierry Madiot has been developing the practice of sound massage since 2001. Sound massage involves techniques and practices that expand our corporeal experience of sound. These techniques can be used therapeutically, recreationally, artistically and/or pedagogically. Thierry Madiot was invited to conduct a workshop in April 2016 in Bergen, offering initial training in sonic massage with an emphasis on vibra- tion and non-aural techniques that address both deaf and hearing audiences. For Within/Infinite Ear, Thierry Madiot proposes one-on-one sound massage sessions to the audience.
WEEK 3 : September 13th – 18th, LA PISCINE, by Myriam Lefkowitz and Valentina Desideri
La Piscine is a collective project that questions our usual modes of attention. As a swimming pool con- tains and mixes water, La Piscine gathers different artistic practices, mixes them together and transforms them. A series of sessions are offered, which draw on a number of practices developed by the artists. Each encounter is a unique experience addressed to a single visitor.
The first edition of La Piscine was presented at the municipal swimming pool in Pantin, near Paris, in October 2015 and organized by Les Laboratoires d'Aubervilliers. There, seven artists (Jean Philippe De- rail, Valentina Desideri, Ben Evans, Géraldine Longueville Geffriaud, Alkis Hadjiandreou, Julie Laporte, Myriam Lefkowitz) learned certain practices from each other and experimented with mixing them.
Over five days, 100 encounters took place, combining the following practices: POLITICAL THERAPY addresses a political problem (expressed by the visitor) through discussion, healing and mapping. HOW CAN ONE KNOW IN SUCH DARKNESS is the experience of a mo- tionless body plunged into darkness. The device relies on the sense of touch and on the sound-space that spreads out around and with the body. THE IGNORANT TOUR GUIDES is an audio guide composed of a series of questions, accompanied by a visual guide composed of a series of images. Participants ex- perience The Ignorant Tour Guides while walking about freely in the space. WALKS, HANDS, EYES (A CITY) is a silent walk that weaves a specific relation between walking, seeing and touching. COCK- TAILS offers a variety of waters, opening a possible dialogue between taste and our other senses. FAKE THERAPY is a practice that allows anyone to heal anyone else without knowing how, through the use of a set of instruction cards.
With
Valentina Desideri and Myriam Lefkowitz
Thierry Madiot
Pauline Oliveros and Ione
— Entrance
Free
— Opening
11am-5pm