Why Are You Angry?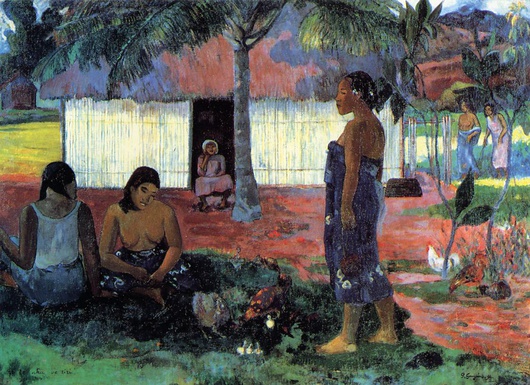 2013/2015 — London, Tahiti
Representations of tahitian women after Gauguin.
"We will travel to Tahiti in the footsteps of the painter Paul Gauguin in order to make our own mythologisation of Tahitian women 1, wherever that may take us. In making a parallel voyage and a parallel investigation to Gauguin's, 125 years after his, we will explore the complexities, difficulties and potentials of making images in our own era. By keeping our project speculative and partial, and taking the female figure as our subject, we will explore and experiment with the depiction of the feminine as subject and as author." (the artists)
Rosalind Nashashibi & Lucy Skaer
Why Are You Angry?, 2015
16mm film
Conception
Rosalind Nashashibi
Lucy Skaer
Image:
Paul Gauguin
Why Are You Angry? (No Te Aha Oe Riri)
Oil on Canvas, 1896
95cm x 131cm


The artists are represented by Murray Guy (New York).
Commissioned and produced by
supported by
Fond de dotation Famille Moulin
Tate St Ives
Scottish Government