Blackmarket for Useful Knowledge and Non-Knowledge No. 18: On Becoming Earthlings
7pm November 21st, 2015 — Paris
Dialogues and exercises in shrinking and expanding the human.
Blackmarket for Useful Knowledge and Non-Knowledge is a concept conceived and developed by Hannah Hurtzig and Mobile Academy Berlin in which experts from diverse fields (natural scientists, craftsmen, artists, philosophers, and neighbors) partake in a series of parallel one-on-one dialogues with members from the audience. The audience (rather a customer on this evening) can book an expert and his or her offer of knowledge for half an hour. Learning and unlearning, knowledge and non-knowledge, and strategies of living and surviving change ownership in a non-institutional way. Blackmarkets have been staged in Berlin, Warsaw, Vienna, Riga, Tallin, Liverpool, Jaffa and other places. For its 18th edition and for the first time in France it comes to Musée de l`Homme in Paris1.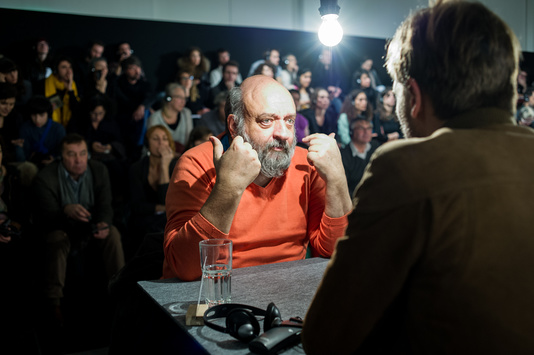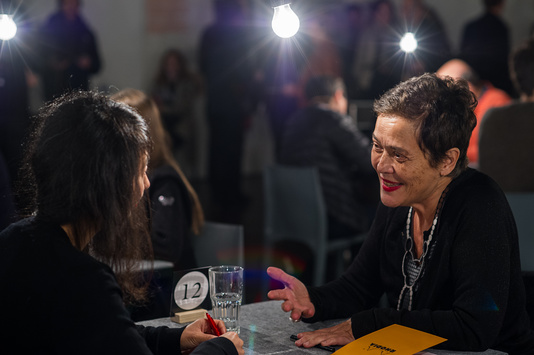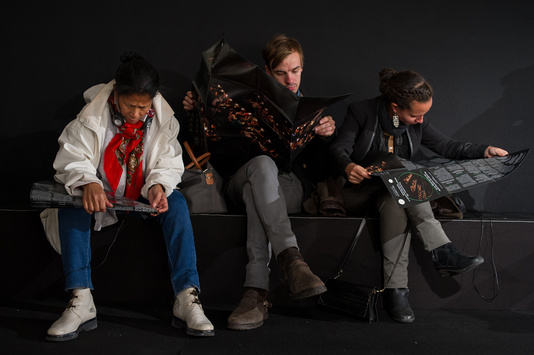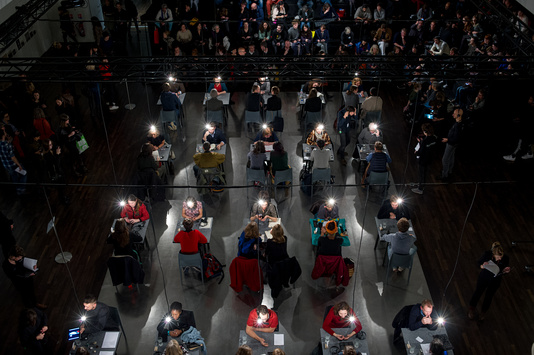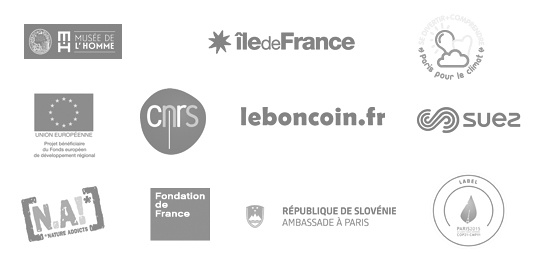 Concept
Hannah Hurtzig (Mobile Academy Berlin)
Curators
Alexander Klose
Nataša Petrešin-Bachelez with -

Laurens Otto
scientific advisor
Denis Couvet (Museum National d'Histoire Naturelle)
experts
Jamika Ajalon

Ingrid Amaro

Brook Andrew

Xavier Bailly

Mathieu Baudin

Irène Bellier

Judith Boon

Seloua Luste Boulbina

Isabelle Cambourakis

Silvia Casalino

Ewen Chardronnet

Joanne Clavel

Marcel Courthiade

Patrick Degeorges

Alain Della Negra

and

Kaori Kinoshita

Patrick De Wever

Vinciane Despret

Pierre Ducret

Rachel Easterman-Ulmann

Yona Friedman

Nadim Ghodbane

Fabien Giraud

Sophie Godin-Beekmann

Philippe Grandcolas

Sebastian Grevsmühl

Anahita Grisoni

Jean Paul Guevara

Émilie Hache

Florence Hachez-Leroy

Évelyne Heyer

Sophie Houdart

Liza Japelj Carone

Krõõt Juurak

Sonia Kéfi

Razmig Keucheyan

Nora Kravis

Sabrina Krief

Annick Labeca

Léopold Lambert

Annamaria Lammel

Catherine Larrère

Bruno Latour

Hervé Le Bras

Marie Lechner

Guillaume Lecointre

Guillaume Leterrier

Nathalie Magnan

Axel Meunier

Tarik Meziane

Yann Minh

Marie-Hélène Moncel

Yoann Moreau

Romain Nattier

Émilie Notéris

Martin Préaud

Heidi Quante

Philippe Rahm

Kalina Raskin

Marc-André Selosse

Ashkan Sepahvand

Maja Smrekar

and

Lord Byron

Benjamin Steininger

Catitu Tayassu

Hugo Teave

Jennifer Teets

Sylvie Teveny

Vaia Tuuhia

Françoise Vergès

Stéphane Verlet-Bottéro

Paul Watson
Image: Blackmarket for Useful Knowledge and Non-Knowledge No.16 "On the Repaired, Enhanced and Dead Body", in Riga.
artistic coordination
Sarah Lewis (Mobile Academy Berlin)
Commissioned by
Grégory Castéra

and -

Sandra Terdjman

(Council) with -

Alexandra Cohen

(Cuesta)
Executive production
Arter/Vivanto
Production coordination

Anne Becker with Julie Le Gall(bureau platÔ/KP)
Technical director
Communication
Rozenn Tanguy (Agence Ticoët)
Translation
Design
Remco Van Bladel

Julien Couret

# Special Thanks - Emmanuel de la Baume, Solène Guillier, Bernard Guirkinger, Barbara Klose-Ullmann, Catherine Larrère, Valérie Pihet, Maria Ines Rodrigues.
with the participation of
Muséum national d'histoire naturelle - Musée de l'Homme, Paris.
Links
supported by
La Région Ile-de-France
Le Bon Coin
Suez Environnement
The Nature Addicts Fund
La Ville de Paris
CNRS
Union européenne, Fonds FEDER-Interreg France-Suisse
Fondation de France
Slovenian embassy, Paris
Projet labellisé COP 21