South African visual activists Thembela Dick and Lerato Dumse were awarded the 2018 AFIELD mentorship programme for their initiative Fundisanani (Teaching Each Other). Fundisanani gives its participants – mostly young black females – a platform to capture their daily lives, express themselves and produce their own narrative. 1

As low education and high level of unemployment in South Africa mostly affect black females, this visual literacy initiative aims at increasing women's participation in photography and writing. Through Fundisanani, they acquire practical media skills that can later be used to earn a living and be self-sufficient. Celebrating 24 years of democracy in South Africa, the project also wishes to build an archive to learn about the national history through an alternate and personal perspective.

Throughout this 18 month mentorship, the goal is to train a group of young individuals who can later become teachers themselves, while giving them the chance to publish their works. Fundisanani aims at creating a virtuous cycle of collaborations and dissemination of skills and knowledge.

Thembela Dick first studied photography with Zanele Muholi at the Market Photo Workshop (Newtown, Johannesburg) before facilitating numerous media trainings and workshops. In 2017, she co-founded Terra Dick Production (TD/P). Working in photography, journalism and copy editing, Lerato Dumse focuses her reportages on the political realities faced by black lesbians in South Africa.
Thembela Dick & Lerato Dumse at a workshop with mentor Zanele Muholi, 2017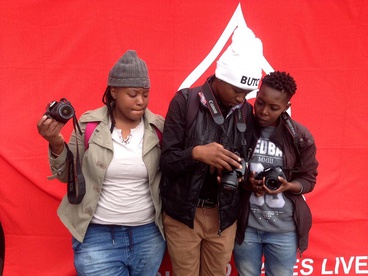 Continue reading