Food travelers Marine Mandrila and Louis Martin were awarded the 2018 AFIELD fellowship for their initiative, the Refugee Food Festival.

Marine Mandrila and Louis Martin are the founders of Food Sweet Food, an NGO created in 2013 to promote food traditions around the world. After a culinary world tour in 18 countries and sharing food with dozens of people all over the world, they realized food had the power to create ties and since then, became as much experts in the kitchen as in hospitality. Returning to France in the midst of the "migrant crisis", they decided to create a platform to tackle the stigma against migrants and refugees by bringing people together using a passion shared worldwide: food, as a powerful and universal mean of communication and integration.

1 Born in 2016 in Paris, the Refugee Food Festival is an annual citizen initiative supported by the UNHCR, the UN Refugee Agency, which started with a very simple idea: to open restaurants' kitchens to refugee chefs for a special event on June 20, on World Refugee Day. On showing how gastronomic experiences enable us to overcome obstacles by discovering each other's traditions, the festival's main ambition is to change the way people look at refugees by promoting talent and facilitate their integration in their host country.


Thanks to an innovative methodology kit, the festival has since expanded and took place simultaneously in different cities around the world: over 170 restaurants and 157 chefs of 43 different nationalities participated across 16 cities around the world, from Paris and London, to Cape Town and New York City. Every year, the festival showcases the diverse cooking talents of refugees and celebrates the communities that hosts them, over 30 000 citizens came to the restaurant, ranging from canteen kitchens to world renowned Michelin-star restaurants.


Recently chosen as 'Event of the Year 2019' by The World Restaurant Awards, the Refugee Food Festival has proven its impact in terms of public awareness and socio-professional integration for participating refugee chefs:

– 59% of chefs gained access to at least one professional opportunity thanks to the festival.
– 91% of citizens who weren't already "involved" before the Refugee Food Festival say the festival created a desire to get involved in supporting refugees.
– 70% of participants believe that the Refugee Food Festival had a positive impact in their perception of refugees. Results from the impact measurement study realized by specialized agency (IM)PROVE in January 2019

Beyond the annual festival, Food Sweet Food develops activities to support the professional integration of the festival's cooks: a restaurant dedicated to refugee chefs in the heart of Paris (La Résidence), a catering service, cooking workshops, pop-ups and conferences.

To know more: http://refugeefoodfestival.com
image: Refugee Food Festival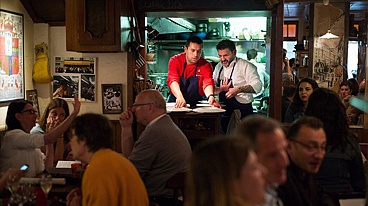 Continue reading