Andrea Yarbrough1 was awarded the 2020 AFIELD mentorship for her initiative in ℅: Black women (in care of Black women) in Chicago, USA.

With over 30,000 vacant lots throughout the city of Chicago, Andrea sees a unique ecological opportunity for public space and the future of deemed 'blighted' or vacant land and founded in ℅: Black women: a creative placemaking initiative that fosters economies of care throughout the United States. The initiative invites women of color to Chicago's South Side to collaboratively regenerate vacant spaces as sites of care. It brings together doulas, poets, curators, farmers, mamas, dancers, organizers, teachers, cultural producers, youth, and visual artists, to collectively exhume the (in)visibility of care for Black women.

By building physical structures that facilitate communal engagement and cultivating green vegetation, flowers, and water elements, in ℅: Black women creates sites of care that restore vacant lots to stewards and the larger community. The initiative uses the construction of functionally designed objects with sculptural elements, the cultivation of land, and the archival and documentation of histories of local women, to exemplify how communities can reclaim and reactivate their surroundings while navigating agency and ownership over vacant land. Through a collaborative partnership with Sweet Water Foundation, the project extends throughout the city of Chicago, looking to soon spread to other urban sites of care such as Detroit, Schenectady, and New Orleans.

Throughout this 18-month mentorship, Andrea looks forward to co-conspiring to counteract centuries of violence and challenging extraction economies that place profits over people. She will work with the New Orleans activist and 2019 AFIELD Fellow Imani Jacqueline Brown, who is also interested in new schemes of reparations and reconciliation, to further expand these webs of care and develop proactive approaches to shifting policy.

Andrea is an artist and disrupter. Her curatorial and artistic practice centers on stewarding vacant land and blends urban agriculture, civic engagement, and art praxis. Her community-centered visual arts production shapes local policy on Chicago's South Side by reclaiming and reactivating abandoned land into sites of care that heal individuals and regenerate collective imaginations. She is currently pursuing a Masters in Museum and Exhibition Studies at the University of Illinois at Chicago, a proud native of the South Side of Chicago, and a Human-In-Residence at Sweet Water Foundation.

For more information follow Andrea on Instagram.
Cover and top images: Andrea Yarbrough, constructing lids for fractals to convert from planters to seats and/or tables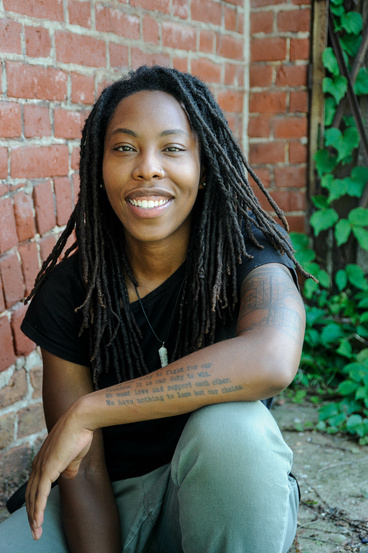 Continue reading