Shawon Akand was awarded the 2020 AFIELD Fellowship for his initiative Jothashilpa, a center for traditional and contemporary arts that aims to support, revive, develop and valorize the traditional art and crafts sector in Bangladesh1.

Since 2016 Jothashilpa has been a melting pot where various categories of arts (such as fine art, folk art, native art, crafts etc.) are being juxtaposed to create a new art language of our own. Since its inception Jothashilpa has been working with artisans and traditional folk artists living in rural as well as urban areas. This includes women who are experts in hand embroidery, jamdani weavers, cinema banner painters and rickshaw artists. It serves as a place of exchange between traditional and contemporary academic artists.

In 2016, Akand also established a research and resource centre Ashru Archive, a non-profit organization in Kushtia. He is also the co-founder of Crack International Art Camp, an annual event, launched in 2007, inspired by traditional Baul philosophy aiming to help young artists and thinkers grow in a non-commercial environment with international exposure.2

As an artist, Akand's body of work questions cultural norms with a critical perspective on social and political structures through painting, printmaking, installation, photography and video. His artworks have been showcased at home and abroad. He has been contributing to the Art Asia Pacific Almanac since 2012, and his major publications include: An Outline of Bangladesh Folk Art, Textile Traditions of Bangladesh, Cinema Banner Painting in Bangladesh, The Tendency of Modern Art in Bangladesh. 3

Shawon Akand (1976, Bangladesh), is an artist, researcher, curator and entrepreneur based in Dhaka. Trained at the Faculty of Fine Arts, Dhaka University, Akand currently serves as a Director at Jothashilpa, working for the enhancement of arts practices with a sustainable approach towards community engagement and development.

To learn more visit the Jothashilpa website and follow their activity on Facebook.
Cover image: Shawon Akand, Director and co-founder of Jothashilpa. Image: courtesy Khaled Sarker/ Prothom Alo
Top image: 'Workshop on Cinema Banner Painting at Jothashilpa Studio', October 2019, organized in cooperation with Samdani Artist-led Initiatives Forum, courtesy Hemayet Himu/Jothashilpa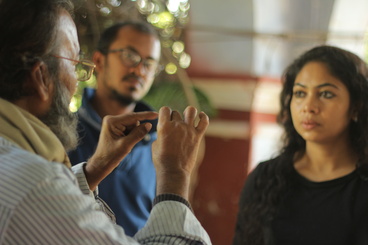 Continue reading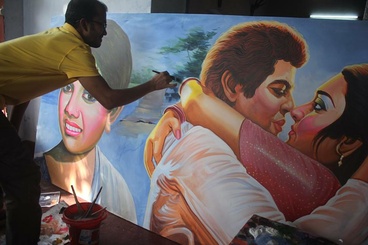 Continue reading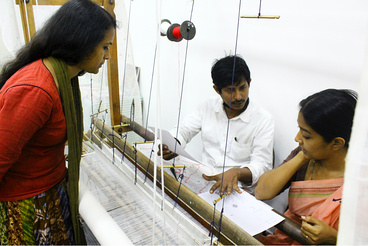 Continue reading