This film is part of the exhibition Shoreline Movements, a program of non-fiction films curated by Erika Balsom and Grégory Castéra (Council), in a space designed by Daniel Steegmann Mangrané, for the Taipei Biennial 2020.

Two men travel down the Río Don Diego River in northern Colombia, one indigenous and the other Spanish-speaking. In voiceover, they tell of how the practice of sodomy was understood before and after the arrival of colonialists and the accompanying imposition of Christianity: the Spanish used it as a weapon of war, yet simultaneously condemned it as immoral. As their canoe moves through a landscape that betrays no hint of the atrocities it has witnessed, their reflections speak to how coloniality entails not just a conquest of territory but an importation of categories that reorganize ways of thinking, knowing, and acting. In the face of the violence and hypocrisy of this history, Nefandus asserts the persistence of indigenous epistemologies, reclaiming a pre-Hispanic past for the emancipatory potential it wields in the present. Motta crafts a parable of the threshold, putting into relation the encounter of two cultures and the encounter between two bodies.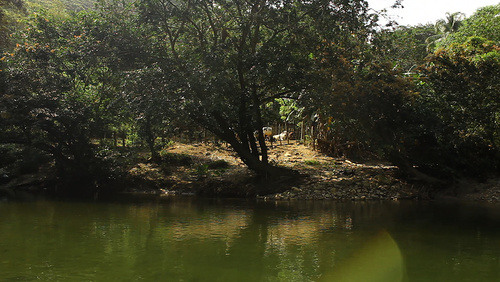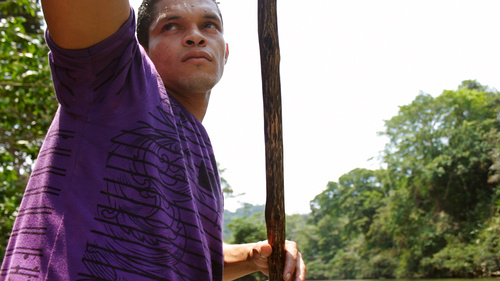 Nefandus, 2013, 13:00

Text, Camera and Editing
Steadicam
Sound Design / Audio Editing
Field Sound Recording
Voices
Arregoces Coronado (Kogi)
Carlos Motta (Spanish)
Color Correction
Still Photography
English Translation
Illustration
Sodomites Savaged by Mastiffs by Theodore de Bry, 1594-1596
Images courtesy of the artist.
Field Producer
Production Assistant
Location
Don Diego, Sierra Nevada de Santa Marta, Colombia
Made while in residency at
The Institute for Art, Religion and Social Justice, New York