Deseos is the first commission for The Against Nature Journal. It has been produced in the framework of The Manufacturing of Rights (Ashkal Alwan, 2015).
Deseos / رغبات (Desires) exposes the ways in which medicine, law, religion, and cultural tradition shaped dominant discourses of the gendered and sexual body through the narration of two parallel stories. The first is that of Martina, who lived in Colombia during the late colonial period of the early 19th century. The second is the life of Nour, who lived in Beirut during the late Ottoman Empire. Part documentary and part fiction, the film presents an imaginary correspondence between these women. Separated by geography, culture, and religion they both faced the consequences of engaging in same sex relations and defying gender norms.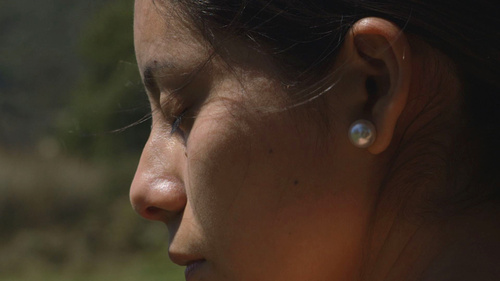 The colonial Court prosecuted Martina in 1803 for being a "hermaphrodite" after being accused by her female lover of having an "unnatural" body. Martina was tried in a court of law and ultimately set free after medical doctors appointed by the court were unable to find evidence of her lover's accusation. This story is documented in the 1803 legal case found in the Archivo General de la Nación in Bogotá, Colombia. Meanwhile in Beirut, Nour married her female lover's brother after her mother found them making love. Despite the fact that Nour's story does not occur in a courtroom nor is it found in a legal case, notions of Islamic and late Ottoman laws, cultures, and histories condition her narrative.
Festivals and screenings
2019 Still I Rise: Feminisms, Gender, Resistance – ACT 3, Arnolfini, Bristol
2018 Galeria Varmelho, São Paulo
2016 Hordaland Art Center, Bergen Norway
2016 The 11th XPOSED International Queer Film Festival, Berlin
2016 PPOW Gallery, New York
2016 Mercer Union, Toronto
2016 Rotterdam Film Festival
2015 A Decolonial Atlas: Videos from the Americas 2010-2015, Something Else – Off Cairo Biennale
2015 They Will Remember Us in the Future, Academy Gallery, NAA, Sofia
2015 Molodist, 45th Kiev International Film Festival
2015 23 Festival Mix Brasil de Cultura da Diversidade, Sao Paulo
2015 Queer Lisboa 19. Festival Internacional de Queer Cinema, Lisbon
2015 Mor Charpentier Galerie, Paris
2015 Göteborg International Biennial of Contemporary Art
2015 Ashkal Alwan, Beirut
Deseos / رغبات
Video, 2015

By
Written with
Script Consultant
Voices
Maya Mikdashi (Nour)
Laura Riveros Sefair (Martina)
With
Maya Mikdashi (Nour)
Jennifer Lorena Jiménez (Martina)
Camera
Mateo Guzmán (Colombia)
Mark Khalife (Lebanon)
Video Editing
Video Editing Consultant
Sound Design
Zachary Dunham
Geoffrey Wilson
Line Producers
Julián Grijalba (Colombia)
Jowe Harfouche (Lebanon)
Post-Production and Color Correction
Camera Assistants
Juan Carlos Bernal (Colombia)
Hatem Chayna (Lebanon)
Sound Recording
Carolina del Mar Fernández (Colombia)
Chadi Abi Chacra (Lebanon)
Ian Turner (Voices)
Production Assistants
Alexander Rozo (Colombia)
Houssam Abdallah (Lebanon)
Hadi Bou Ayash (Lebanon)
Translations
Osama Esber
Hazem Jamjoum
Maya Mikdashi
Carlos Motta
Cora Sueldo
Equipment
Commissioned and produced by
On the occasion of
Manufacturing of Rights, Beirut, 2015
Co-produced by
Hordaland Kunstenster (Norway)
Malba, Museo de Arte Latinoamericano de Buenos Aires (Argentina)
Röda Sten Konsthall (Sweden)
Galeria Filomena Soares (Portugal)
Gallery Mor.Charpentier (France/Colombia)
Supported by
Ashkal Alwan (Lebanon)
DICRéAM (France)
Göteborg International Biennal for Contemporary Art (Sweden)


Top image: Deseos / رغب, film still