After the initial research carried out in Beirut, that culminated in the symposium The Manufacturing of Rights at Ashkal Alwan, The Against Nature Journal toured in the shape of an exhibition. The exhibition presented a series of lithographic works by Joscelyn Gardner, a video recording judge Mounir Suleiman reading his seminal judgement from 2007 and a series of texts by scholars and artists, reflecting on issues related to the concept of 'Nature'.
In 2017 the exhibition travelled as part of the following exhibitions:
Polyphonic Worlds: Justice as a medium Contour Biennale curated by Natasha Ginwala 11 March until 21 May 2017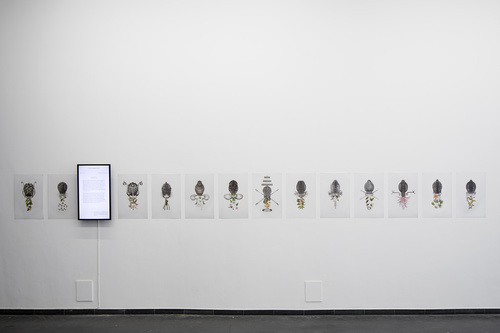 Los multinaturalistas Medellín's Museo de Arte Moderno (Colombia) curated by Natalia Valencia Arango 5 April until 3 July 2017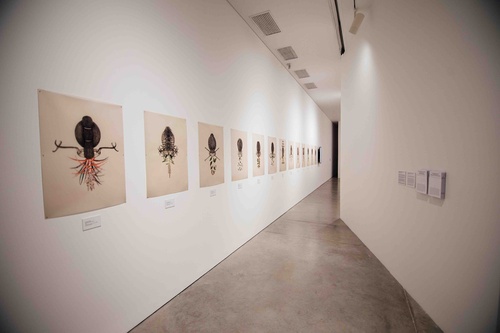 Cosmopolis #1. Collective Intelligence curated by Kathryn Weir and Ilaria Conti 18 October to 18 december 2017 with a roundtable organised by Council with Aimar Arriola, Grégory Castéra, Nikita Dhawan, Arvind Narrain and Grant Watson.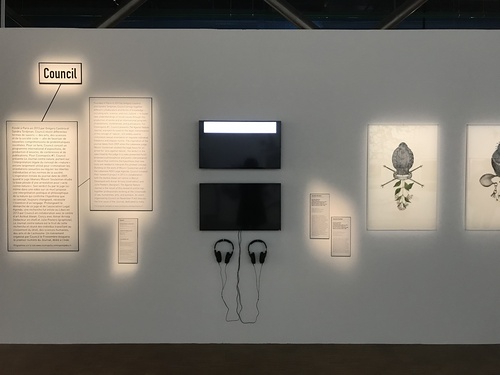 An exhibition by
Council
Hosted by
Contour Biennale (Belgium) Museum of Modern Art Medellin (Colombia) Centre Pompidou (Paris)
With works by
Joscelyn Gardner
essays by
Vanessa Agard-Jones
Nikita Dhawan
Arvind Narrain
Grant Watson
Zeb Tortorici
Linn Tonstad

Top image: installation view Contour Biennale