A selection of articles are available as PDF in footnote1
Thinking Through Religion
The inaugural issue of The Against Nature Journal delves into the complex and sometimes contradictory ways in which sexual and gender minorities are considered and shaped by world religions, including Christianity, Islam, Hinduism, and their denominations. The concept of "against nature" as a kind of dividing machine between what is natural and what is deviant is rooted in religious morality. The conceptual framework of our project is situated as an active response to the so-called laws against nature that still criminalize sexual and gender minorities in many parts of the world. We recognize that for various belief systems "nature" is the expression of the divine, a superior force that is separate from yet threatened by human action. It is common in most religious traditions to conform to God's judgment of whether a body or an act is either natural or unnatural. Religion as well as spirituality more generally are also sites from which to imagine and live a different relationship to the divine.
This first issue points to the historical foundations of determining the "unnatural" within dominant belief systems. Khanu vs Emperor (1925) is a case in point: one of the most influential lawsuits in Indian anti-sodomy law, it redefined the scope of Section 377, and for many years became the guiding judgment for interpreting anti-sodomy laws throughout the British colonies of South Asia, East Asia, and East Africa, as lawyer and activist Vivek Divan reflects on. How antisodomy laws in these regions play out today is evident in the Columns section of this journal, focused on current news from such places where against nature laws still prevail (including India, Lebanon, Malaysia, Morocco, Kenya, and the Caribbean), along with debates from Europe, Latin America, and Brazil, where there are continual re- gressions of reproductive, sexual orientation, and gender identity rights.
While often perceived as repressive and con- straining, religion and even less regulated faiths and forms of spirituality have been and continue to be the refuge in which artists, writers, poets, and activists rethink the question of what is "natural." A special focus of this issue is on the literary practice and activism of Kenyan, gay, HIV-positive writer Binyavanga Wainaina (or the Binj, as he was so fondly called), who passed away in May 2019. Described by the New York Times as a "pioneering voice in African litera- ture," Wainaina not only inspired a new generation of writers in Africa but his work served to critique the spread of homophobia by Pentecostalism and the politicization of homosexuality. And yet, Wainaina also embarked on a personal spiritual quest. Writer Amatesiro Dore, one of many protégés mentored by Wainaina at the Farafina Trust Creative Writing Workshop in Nigeria, pays tribute to his lifework in these pages alongside the first piece of fiction that Wainaina ever wrote (originally published in 1996 on a now defunct literary website, but made available in print here for the first time). This early story is, somewhat surprisingly, about pagan spirituality and is accompanied by an introduction written by Achal Prabhala. Dore's own breakthrough poem "Joy," a beautiful, queer take on sexuality and religion, has also been republished as another companion piece.
The issue showcases progressive approaches to religious thinking and practice that contribute to the ways in which we experience our own "nature," our own sexual and gender identities. Theologians Martti Nissinen and Linn Marie Tonstad, coming from differing perspectives, provide inspirational reflections on this matter. Nissinen's text, originally published in 1998, reviews the "unnatural" as intrinsic to ideas of creation and gender in the biblical world. Tonstad, in a text specially commissioned for this issue, questions from a queer perspective who the "we" implicated by the journal might be. These essays are accompanied by the poetry of Abu Nuwas, one of the most important poets of the Islamic world in the eighth century, and contemporary, queer writer Chekwube Danladi. They both welcome an accommodating spirituality.
Biographies
Dayna Ash is a cultural and social activist, playwright, performance poet, and the founder and executive director of the nonprofit arts organization Haven for Artists, based in Beirut, Lebanon.
Naoufal Bouzid is an African LGBTI activist from Morocco. He is the cofounder of Equality Morocco. For over ten years he has worked with local and international human rights NGOs and been involved in different campaigns for the decriminalization of homosexuality and raising awareness of LGBTI issues in Morocco.
Lorraine Daston is director of the Max Planck Institute for the History of Science in Berlin and a visiting professor at the Committee on Social Thought, University of Chicago. She is the co-author of Wonders and the Order of Nature, 1150–1750 (with Katherine Park, Zone Books, 1998) and Objectivity (with Peter Galison, Zone Books, 2007).
Pawan Dhall has been engaged with queer activism in India since the 1990s. He runs Varta Trust, Kolkata, a nonprofit for gender and sexuality issues. He researches and writes on the histories, health, and socioeconomic inclusion concerns of queer communities. His most recent publication is Out of Line and Offline: Queer Mobilizations in '90s Eastern India (Seagull Books, 2020).
Chekwube Danladi is the winner of the 2019 Cave Canem Poetry Prize for her manuscript Semiotics, soon to be published by University of Georgia Press (September 2020). From Lagos by way of West Baltimore, she currently lives in Chicago.
Vivek Divan is a queer activist and a qualified lawyer, having worked on queer rights, health, and law for over two decades, including playing a central role in the litigation challenging Section 377 of the Indian Penal Code. He heads the Centre for Health Equity, Law and Policy, in Pune, India.
Amatesiro Dore is currently an ICORN, Region of Tuscany fellow living in Florence. He graduated from the Farafina Trust Creative Writing Workshop in 2009. In 2019, he was a writer in residence of the Wole Soyinka Foundation.
Eliel Jones is a (queer) critic, writer, and associate curator at Cell Project Space, London. He has written about contemporary art and performance for Artforum, Elephant, Flash Art, Frieze, The Guardian, MAP, Mousse, and elsewhere.
Kari Mugo is a Kenyan creative writer, activist, and a regular contributor to various online media outlets where she covers entertainment, culture, global mobility, politics, and travel. Her work has also appeared on radio, podcasts, and on stage and discusses feminism, immigration, and queer identity.
Martti Nissinen is a Finnish theologian and professor of Old Testament Studies, University of Helsinki. He is an expert on the prophetic phenomenon in the ancient Eastern Mediterranean, but his research interests also include love poetry, homoeroticism, and masculinity.
Niza is a feminist journalist and activist from Kuala Lumpur, Malaysia. She graduated with a degree in journalism in 2011 and has twelve years of work experience in matters of civil society.
Abu Nuwas (Abu ̄ Nuwa ̄ s al-H. asan ibn Ha ̄ n ̄i al-H. akam) is commonly regarded as one of the greatest classical Arabic poets. Living in the late eighth century, Nuwas relished wine and carnal (often same-sex) relations, both of which he refers to in his poetry.
Donnya Piggott has been an LGBTQ advocate for almost ten years, a columnist, an award-winning social entrepreneur, and the founder of Pink Coconuts, a tech platform for LGBTQ people across the Caribbean.
Achal Prabhala is a researcher and writer living in Bangalore. He works on providing access to medicine in India, Brazil, and South Africa. He also writes for a variety of small magazines around the world.
Linn Marie Tonstad teaches Christian theology and gender and sexuality studies at Yale Divinity School. She is the author of two books: God and Difference: The Trinity, Sexuality, and the Transformation of Finitude (Routledge, 2016) and Queer Theology: Beyond Apologetics (Cascade Books, 2018).
Viviane Vergueiro is a researcher and transfeminist activist working from Salvador, Bahia, Brazil. A PhD candidate in Gender Studies at Universidade Federal da Bahia, she is also part of the research center Núcleo de pesquisa e extensão em Culturas, Gêneros e Sexualidades at the university, and a project coordinator for Akahatá, a team working to advance LGBT and sexual rights.
Danh Võ is an artist born in Vietnam. Võ's projects emerge via objects and images that have accrued meaning in the world, whether through their former ownership, their proximity to specific events, or their currency as universal icons. Power, history, eroticism, personal biography, imperial dissolution and globalist expansion are all in play. The Võ family escaped Vietnam to Denmark in 1979, and the artist's work embodies the shifting and precarious nature of contemporary life. Võ imagines a world for the artist unbound by obligations to state institutions, social norms and grand humanist projects.
Binyavanga Wainaina was a Kenyan author, journalist, and the 2002 winner of the Caine Prize for African Writing. In 2014, Time magazine included him in their annual list of "100 Most Influential People" in the world.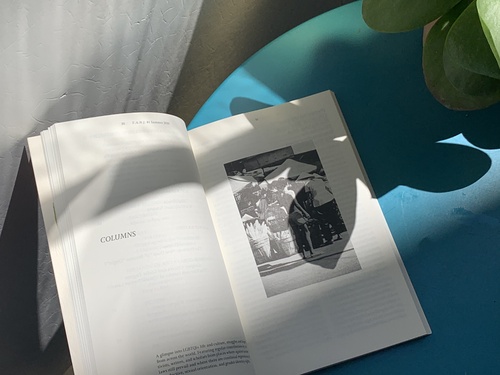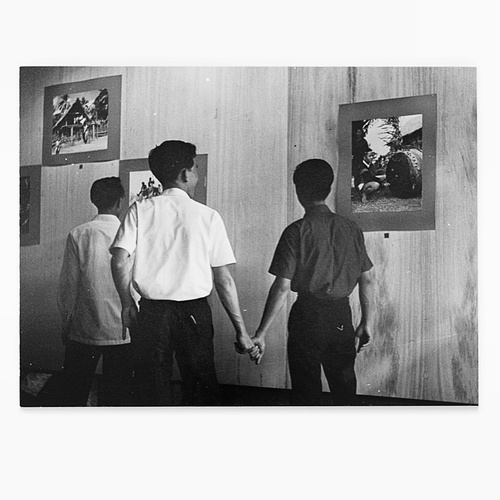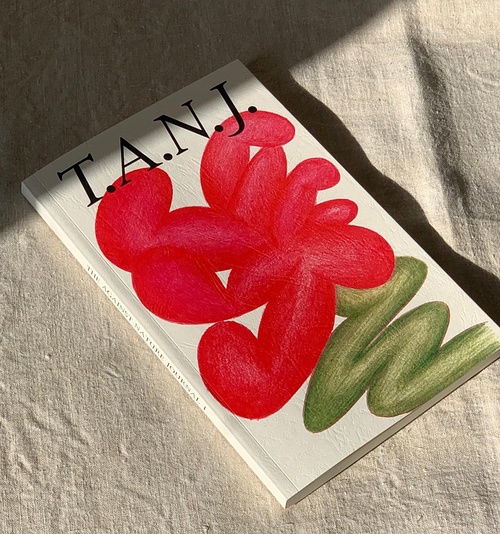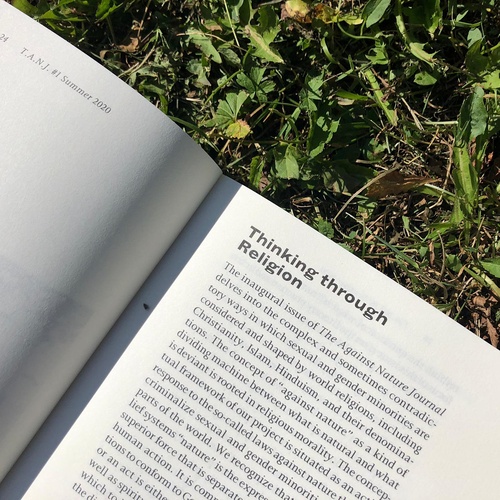 The Against Nature Journal (T.A.N.J.) was a biannual arts and human rights magazine published by Council from summer 2020.
Issue #1 Summer 2020
printed in 2000 copies
234 x 146 mm
15€
Authors
Dayna Ash
Naoufal Bouzid
Grégory Castéra and Giulia Tognon
Chekwube Danladi
Lorraine Daston
Pawan Dhall
Vivek Divan
Amatesiro Dore
Eliel Jones
Martti Nissinen
Donnya Piggott
Viviane Vergueiro
Kari Mugo
Niza
Abu Nuwas
Achal Prabhala
Linn Marie Tonstad
Binyavanga Wainaina
Artist Contribution
Editors
Aimar Arriola
Grégory Castéra
Contributing Editor
Copy Editor
Proofreader
Designer
Cover Art
Communication
Assistant
Editorial Committee
Aimar Arriola
Thomas Boutoux
Grégory Castéra
Arvind Narrain
Sandra Terdjman
Giulia Tognon
Advisory Committee
Nikita Dhawan
Taru Elfving
Karim Nammour
Piergiorgio Pepe
Graeme Reid
Nizar Saghieh