A (mis)reader's Guide to Listening is a performative work composed of several sensorial practices. Deriving from the sonic exercises of the exhibition in Bergen in 2016, it was developed for the exhibition in Moscow in 2018 1 and in Madrid in 2019 2 as the mediation of the exhibition Infinite Ear.
A (mis)reader's Guide to Listening, is a mediation conceived especially for the exhibition Infite Ear, based on spontaneous encounters with the visitors. Developed by Lendl Barcelos, Valentina Desideri, and Myriam Lefkowitz, in collaboration with Catalina Insignares, the work is a fluid combination of artistic, therapeutic, musical, conceptual, esoteric, and poetic practices.
It was conceived as the result of workshops with mediators who have various relationships to the body, sound, and deafness. The artists transmit to the performers a set of practices and tools for (mis)reading and listening that they have gathered. They work with the performers, in dialogue with their individual practice, in order for them to develop their own interpretations, their own ways of (mis)reading and guiding visitors through the exhibition in individual or group sessions.
Placed at the intersection of different fields of knowledge, A (mis)reader's Guide to Listening reveals how the visitor's bodies and concerns participates in the interpretation of a work, and proposes other ways of sensing that may expand the work's interpre- tation within and beyond the exhibition space. 3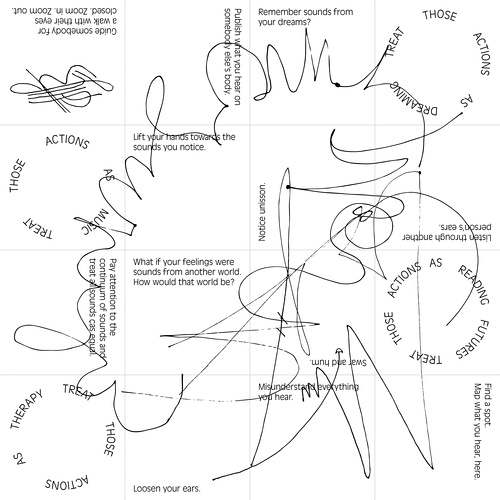 A (mis)reader's Guide to Listening gathers a series of sensorial practices that mediators interpret and integrate with their own practices, building unique paths to accompany visitors in a journey through the exhibition.
— Valentina Desideri, Political Therapy
Political Therapy is a one-to-one session addressing a political problem (expressed by the visitor) through discussion, healing and mapping.
— Valentina Desideri, Fake Therapy
Fake Therapy is a practice that allows anyone to heal anyone else without knowing how, through the use of a set of instruction cards.
— Myriam Lefkowitz, How Can One Know In Such Darkness
How can one know in such darkness is the experience of a motionless body plunged into darkness. The device relies on the sense of touch and on the sound-space that spreads out around and with the body.
— Myriam Lefkowitz, Walks, hands, Eyes (A City)
Walks, Hands, Eyes (A City) is a silent walk that weaves a specific relation between walking, seeing and touching.
— Géraldine Longueville, Different States of Water
Different States of Water offers a variety of waters, opening a possible dialogue between taste and our other senses.
— Thierry Madiot, Sound Massage
Sound Massage involves techniques and practices that expand our corporeal experience of sound. These techniques can be used therapeutically, recreationally, artistically and/or pedagogically, with an emphasis on vibration and non-aural techniques that address both deaf and hearing audiences.
— Lisa Nelson, Tuning Scores
Tuning Scores are an intriguing way to investigate fundamental elements of performance, movement behaviour, and communication. Created by Lisa Nelson, the explorations illuminate how we compose perception through action; in other words, we learn how what we see is inextricably linked to how we see, through our multisensorial layers of observation.
— Pauline Oliveros and Ione, Deep Listening
Deep Listening is a practice of inclusive listening developed by composer and musician Pauline Oliveros that includes "an aesthetic based upon principles of improvisation, electronic music, ritual, teaching and meditation. This aesthetic is designed to inspire both trained and untrained performers to practice the art of listening and responding to environmental conditions in solo and ensemble situations.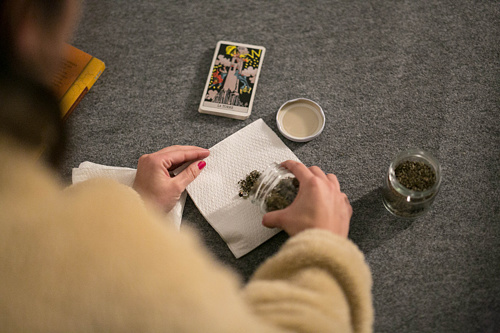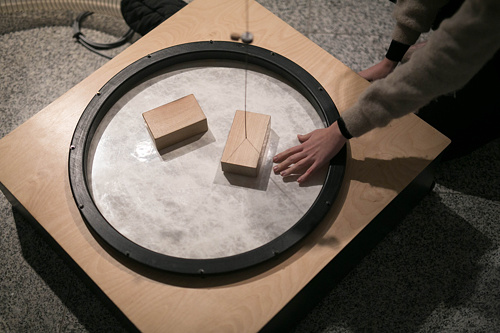 A (mis)reader's Guide to Listening (2018)
BY
Lendl Barcelos
Valentina Desideri
Myriam Lefkowitz
CARDS
SCORES
Lendl Barcelos
Valentina Desideri
Denise Ferreira da Silva
Myriam Lefkowitz
Thierry Madiot
Lisa Nelson
Pauline Oliveros
Yoko Ono
This work was initiated in the frame of the exhibition Infinite Ear, Garage Museum of Contemporary Arts, 2018
CO-PRODUCED BY



Top image: therapies workshop for the mediators of A (mis)reader's Guide To Listening in Moscow, June 2018, Ph: © Garage Museum of Contemporary Art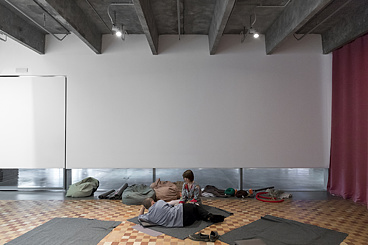 Continue reading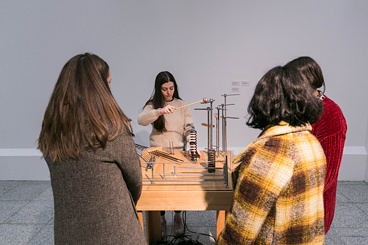 Continue reading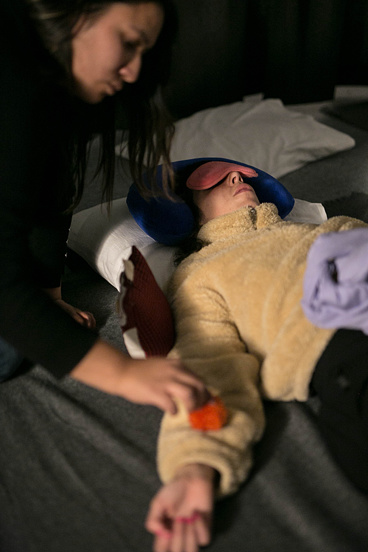 Continue reading