In March 2013, Council organized a meeting1 between the students of the Al Amal School for the Deaf and 10 drummers, from various fields, invited by Tarek Atoui to play together in the courtyards of Sharjah. This collective interview focuses on several dimensions of drumming raised during this discussion. The students speak in Sign Language, translated in arabic, then in english. Due to translations, the discussion was long with many silences, the messages are sometimes modified, and it was very difficult to keep track of the name of every interlocutor. This is why we decided to quote "the students" as one voice (except cases when one student speaks separately from the group) and each drummer separately.
Sandra Terdjman : I am wondering if the way you perceive vibration is different than the way I perceive it.
The Students : We will percieve it in a different way. Because we are deaf we will percieve it through our body and not through our ears. Sometimes we put our hearing aids on and sometimes we turn them off. When it relies on hearing, we turn it on, when it relies on the body, we turn it off. Sometimes we feel vibrations but we cannot give them a meaning. We know something is going on. Maybe it's the same in your case ? You feel the vibration but you cannot interpret it?
ST : Did someone turn his hearing aid off?2
The students : We felt your (Cevdet Erek) music was a clear music. We felt very good inside. We felt you using mostly your legs to play, that gave me goosebumps. When we began with the first group in the courtyard, it was like being in the middle of a fight. But when we went to your place and listened to your performance, it gave us comfort after this fight. It was very interesting, and attractive to our taste...
The students ...And for Brian... We felt your music in our entire body. For some players we felt in our upper body, for others in our lower body. For you, we felt in the entire body. To give your music a metaphor, we felt like we were in a cold place, like layers of cold. I was shivering, which is perfect!
Brian Chippendale : I want to make the simplest message that could affect someone.
The students: We felt it in that way.
BC : I try to make it very physical.
The students : We felt your message is given.
A student : I want to know about your perception of your performance … Is it only sound or do you also feel vibrations?
BC You are attached to the stick. I would say it's maybe 50/50 vibration and sound. The vibrations are huge.
A student : I thinks if I touch an electricity wire I will feel that way.
Cevdet Erek : And also imagine that the time of music that we play, in some sort of sound we try to hit one element the hardest as possible, and always at the same level… (to brian) maybe you do it one thousand times in a concert, no ? It is like, really.. big ones. And sometimes you try to make it in a constant way. Imagine you have a bog wooden stick, you are hitting a metal or wood? Maybe hearing is a less part of that.
A student : I knows you can feel the vibration but I want to make sure … When I feel the music, with every beat, it's like waves in my body, it is not like steady vibration, it is like waves.
The students : Your (Suzie Ibarra) performance was different, with different rhythm. Sometimes it is very light, sometimes it is very soft. The size of the stick you drum with gives different sounds. Different rhythms, different loudnesses. We visualized your performance as if we were looking at a speed meter - sometimes it is going up, sometimes it is going down. In general it was comfortable. We felt like somebody holding a volume control and going up and down.
The students We felt your (Lucas Ligeti) performance like dog barking, and somebody trying to escape from this dog, and the dog is chasing them… (laughs). It is not a normal dog, but an aggressive one.
Lucas Ligeti : Hmm I try to play in several speeds at the same time. And sometimes the whole thing will accelerate, yes… Dog, I'm not so sure. I speak better cat language. I have more successful dialogues with cats. (laughs) I bite the dogs before they bite me.
The students : So this is our discovery, that you can play dogs. This is something you can add at your talents.
Lucas barks and people laugh.
The students : Your (Uriel Barthélémi) was very loud. You played in an aggressive way, like… the speed was very fast. You changed your tempo from fast to slow then fast again. I felt like being in front of DJ, with rhythm of electronic music.
ST : So you could feel a continuous vibration in Uriel's performance?
The students : Some episodes of presence and absence of vibration.
BC : Even the lightest hit makes a vibration. Do you feel there is an increase in sensitivity?
The students : We cannot perceive the vibration from the light hits.
CE : What about the cymbals? What about big crashes? Do you feel something different from the skin tabla and the cymbals?
The students : It is easier to perceive the tablas. But there are some strums we can feel and some we cannot feel. We only see it.
BC : How much is the watching, how much is the looking involved in the experience ?
The students : It is very hard to discriminate if the feeling is coming from our vision or from our body, but if we have to say, we will say our vision. The most important will be the vision, then the vibrations.
Grégory Castéra : And what about the performance of Kevin? There were some very little sounds.
The Students : His music wasn't clear. We didn't understand what he was telling us.
Suzie Ibarra : Because he was playing very intricate things.
The Students : He was very slow and very soft, light and low. That's why we didn't grasp his performance.
The Students : Your (Morten Olsen) performance was like being at an airport terminal in a very busy traffic.
ST : Is it because of the repetition?
The Students : We don't know exactly but we want to say it is like being in an airplane about to take off. It's like gradual acceleration and then the boom of taking off.
BC : Have any of you played drums?
The Students : We all had this experience of playing djembe concerts twice before.
ST : What is the difference between the drumming you learned and what you saw today?
The Students : It was different because the performance in the school was only the african drums - the djembe - but with your performance we had a wider range. It was a richer experience.
BC : Drummers often tap with their fingers or their pen when they wait. Do you also do this?
The Students : Yes, with a pen on the table, or tapping with our feet, on our knees. In the school sometimes we hit the table. At first we didn't know why people did that. We did it and we know now why they were doing it.
BC : Because i think drumming, disconnected from the sound, is a very satisfying movement, and emotion.
A student : It feels good. At home if I feel boredom, I try to move in this way, it relaxes me. I move my feet on the ground and my body moves backwards and forwards. It's a very slight dancing movement.
A student : But it's not only tapping it's also with the throat. When I am moving I can catch the right tune.
CE : Can you make a small improvisation?
A student : I don't know if it will be successful or not.
He performs and people applaud.
A student : I need to know your feedback.
CE : We already did our feedback, when we are moving like this (back and forward), it's successful.
Text
A conversation between :
Brian Chippendale
Cevdet Erek
Bassem Abdel Ghaffar (translator english/arabic)
Lukas Ligeti
Al Amal Students
Sandra Terdjman
Videos
Tarek Atoui
Uriel Barthélémi
Brian Chippendale
Cevdet Erek
Susie Ibarra
Morten J. Olsen
Kevin Shea
The authors thank Tarek Atoui, Jim Black, Yoshimi and Yoshida Tatsuya
Image : Collective performances of « The Call », for the opening of Sharjah Biennale (vidéo at the end of the article)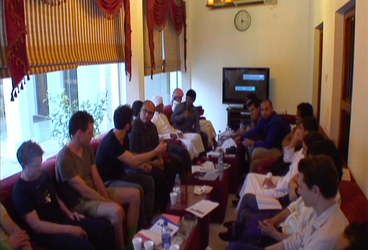 Continue reading
2.
Most of the students turned their hearing aids off when they were watching the performances.
Continue reading