TACET was the first phase of research for the inquiry Infinite Ear and it involved field trips and workshops. This text tells the story of the research. More texts are available in the 'Account' section.

In 1952, John Cage designed a performance which staged a musician sitting at a piano for 4 minutes and 33 seconds without moving. As he explained, the performance is anything but silent: it is an invitation to the audience to attend to the thousands of ordinary sounds covered by music yet present nonetheless — the sound of coughing, of creaking seats, snippets of conversations of passers-by, the distant humming of the subway...TACET was the main score indication. We would like to interpret TACET as an invitation to expand our listening awareness and ability.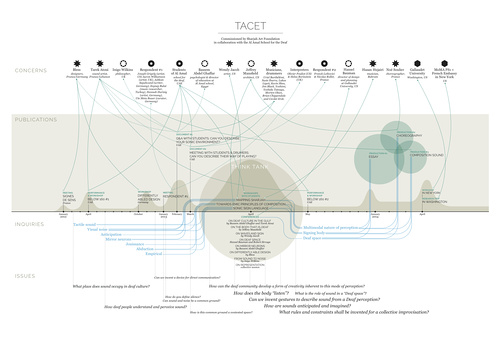 Sound perfume (February 2012, Paris)
As is often the case, our inquiry began with an anecdotal situation: when designers Desiree Heiss and Ines Kaag (Bless) met the Signes de Sens organisation, they proposed to design a "sound perfume" and carry out research grounded in a "sonic approach to Deaf culture". However, their proposal did not fit with the overall vision and mission of the organisation — the differences seemed too huge, and the collaboration was not pursued. Yet, although it was still unspecific, an issue was formulated, and the organisation's refusal was enough to ignite our curiosity. Having previously established Council, we then met with Desiree and Ines to discuss their project further. Following their initial sound perfume concept, they ran a workshop centred on "differently able design", creating, along with their students, prototypes of new interfaces facilitating interaction with Deaf and hard of hearing persons.
In order to begin our inquiry we needed to develop a better understanding of the various issues and implications of a "sonic approach to Deaf culture" and try to glean why the proposal was not accepted.
Differently able (November 2012, Paris)
As we observed people greeting one another and chatting while we stood in the Cité Chaptal alley waiting to enter the International Visual Theater for the season opening, we no longer felt we were in south Pigalle but in a different country, with its own rules of etiquette, sense of humour and ways of identifying one another.
We realised the extent of our ignorance regarding Deaf culture when we began studying the history of Deaf and hard of hearing education: for a long time the use of sign language was prohibited and access to higher education was fraught due to the absence of an appropriate communication form for disabled persons. The use of sign language and acknowledging its status as a language (and, further, as a mother tongue) is central to Deaf culture. In France, for instance, sign language was only accepted as the official language of Deaf persons in 1970. This context helped us grasp the kinds of priority concerns animating an organisation such as Signes de Sens, and how our approach might have initially seemed superfluous to them.
There are certain issues a hearing person working with a Deaf person needs to be sensitive to: a hearing person may wish to assist a person with reduced abilities and, for instance, seek to compensate this reduction through exercises or protheses to enable the Deaf or hard of hearing person to lead a "normal" life. However, a hearing person might also consider that the loss of an organ can crucially lead to the development of other abilities — that the human body is a self-regulating ecosystem. In this way, the focus on agreed standards of living gives over to an engagement with the diversity of physical and neural abilities, exploring how these abilities, in their very differences, can inform one another. The latter approach impacts practices as naturalised as listening and communication in myriad ways. This is how we discovered Disability Studies.
In the course of our research we met sound artist Tarek Atoui who coordinated the sound programme for Sharjah Biennial 11. Two years earlier Tarek led a workshop with students from Al Amal School for the Deaf in Sharjah, centred on the perception of low frequencies. The biennial wished to pursue the collaboration and despite various issues tied to cultural difference and translation (between English, sign language, and Arabic) enough elements came together to enable us to include this project in our study.
Discussions (December 2012, Paris)
Joseph Grigely relayed a humiliating experience he had while traveling on an airplane, where he had realized - long after the other passengers - that his computer had been talking aloud to him for over an hour until the passenger seated beside him finally mentioned the disturbance. It is difficult to imagine the extent to which a Deaf person needs to anticipate the sounds he/she produces and those produced by his/her everyday environment. The sound of a phone ringing, the creaking of a chair or the sound the mouth makes are just some examples of the kinds of involuntary noises one might directly or indirectly make. The social construction of identity involves controlling such phenomena, and their eruption points to a non-disciplined body, thus locating the individual in a marginal position in relation to the group. This daily exercise of anticipation requires heightened attention towards all potential sounds the environment might produce.
...(January 2013, London, Berlin, Paris)
Olivier Pouliot reminds us of the extent of ignorance which continues to surround sign language, with some believing it is the new Esperanto... He jokingly remarks that "There's no such thing as 'Deafland' yet".
8 (January 2013, Paris)
The ear does not enjoy 'natural' perception — rather, it trains itself to identify certain qualities in certain sounds, discriminating between pertinent sounds and non-pertinent sounds left to merge into ordinary background noise. Yet if we consider the myriad artistic and scientific practices centred on listening, it is clear each different listening mode makes particular phenomena salient. In this way, a composer can write a piece of music from memory, an ornithologist can distinguish between different bird songs, a scientist can use an accelerometer (vibration sensor) to discern the difference between a predatory or harmless vibration in frog embryos, and an engineer can design weapons which vibrate at the frequency of white blood cells.
Over the course of our research we discovered the work of Inigo Wilkins who is pursuing research at Goldsmiths College (London, UK) on the concept of noise — a dimension of sound often perceived negatively, at odds with harmony, and which presents ties with the kinds of sounds perceived by the Deaf community. We also met artist Wendy Jacob who carried out a study in 2009 at the MIT (Cambridge, US) bearing on seismic communication and Deaf persons' perceptions of vibrations, designer Jeffrey Mansfield, who has been profoundly deaf since birth, and whose M.Arch Thesis at Harvard University explored the intersection of deafness and architecture. We invited them all to join us in Sharjah.
Soundscape (February 2013, Sharjah)
We arrived in Dubai and then set off on the world's most traffic-crammed road, towards the Rotana Hotel. We met the Sharjah Art Foundation team, the teaching staff and students of Al Amal School for the Deaf, and Bassem Abdel Ghaffar — a psychologist specialising in deafness, in charge of training the staff at Al Amal school, and currently carrying out research on mirror neurons. We met with the students to ask them a few questions to try to understand which sounds they perceive and how they perceive them. We learned how a car can turn into a vibration chamber, how birdsong can help identify whether a space is silent or not, and how feet can become the best pair of ears when travelling in transport. The students unanimously expressed how much they enjoyed playing and listening to percussion instruments.
Within (March 2013, Sharjah)
Tarek scheduled a series of performances by musicians and drummers around the city for the opening of the biennial. We invited the Al Amal students to attend to each of the drumming performances and give their opinion. After the performances we met to discuss their experience and were joined by the drummers. The students explained that Cevdek Eret's performance was particularly enjoyable because he follows the rhythm of the "heartbeat" and Brian Chippendale's performance was like " a firework show".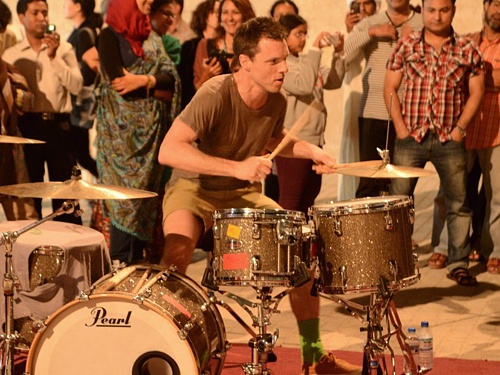 Understanding their own terms (March 2013, Paris)
Later, we discussed this exchange with Jeffrey Mansfield, Brice Terdjman (Data-visualization Specialist Engineer), and Nicolas Rollet (Conversational Analyst). Jeffrey pointed out that the gestures the students used to describe their sensations pertain to the sound description vocabulary used by hearing persons. This is one of the reasons why the Deaf have difficulty expressing their perceptions of sound and why it is so important to establish a vocabulary that specifically represents the manner in which Deaf persons experience sound. His workshop focused on this very issue.
We discussed these questions again over lunch with Olivier Pouliot. He described sign language as a language among others, on a par with German or Chinese. We tried to imagine what it would be like learning one's mother tongue in a country where no-one speaks the same language as you...
3 days of discussions and workshops (April 2013, Sharjah)
The three days were structured around a series of discussions and workshops bearing on our respective areas of specialisation. The group included Bassem Abdel Ghaffar, Tarek Atoui, Desiree Heiss, Wendy Jacob, Jeffrey Mansfield, Inigo Wilkins, joined by Hasan Hujairi (sound artist), Helsa Borinstein (translator) and Hansel Baumann (researcher, via skype).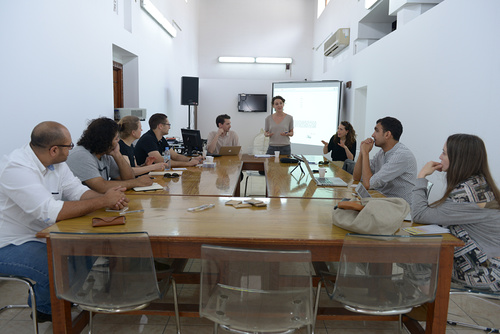 Tarek and Inigo made an instrument using low-frequency speakers and experimented with principles of collective improvisation with the students. Wendy and Hassan gave the students mobile recording equipment to go and collect sounds around the city and then experience them as vibrations via a balloon device. Jeffrey lead his workshop on inventing gestures which describe sound as perceived by the Deaf. Desiree invited the students to test out various objects produced during her workshop on differently able design. Hansel presented his research on Deaf Space.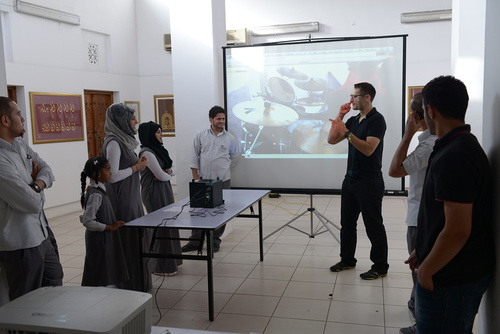 Conclusion of the workshops (October 2013, Paris)
The dynamic these exchanges produced spurred us to pursue the project. Beginning with an inquiry into sound perception among the Deaf, we gradually delimited our field of research. In this way, TACET has become an exploration of the diversity of listening modes and a training enabling us to acknowledge those aspects of the other's reality which lie beyond our own experience or practice. This inquiry engages with a community not bounded by the hearing/non-hearing binary, bringing together perspectives which do not generally meet. The point is not to find solutions here but to further explore the complexity of the various issues in order to generate new practices. We are now beginning a new phase of research, developing the various work orientations that emerged during the meeting.
TACET is a collaboration between Council and Tarek Atoui
Workshop
Bassem Abdel Ghaffar
Tarek Atoui
Hansel Baumann
Helsa Borinstein
Desiree Heiss
Hasan Hujairi
Wendy Jacob
Jeffrey Mansfield
Students from Al Amal School for the Deaf
Inigo Wilkins
Preliminary research
Uriel Barthélémi
Jim Black
Brian Chippendale
Cevdet Erek
Susie Ibarra
Lukas Ligeti
Morten Olsen
Nicolas Rollet
Kevin Shea
Tatsuya Yoshida
Datavisualisation
An artistic project by Sharjah Biennial 11 with Al Amal School for the Deaf


top image: Tarek Atoui, TACET workshop with students from Al Amal School for the Deaf, Sharjah, 2013